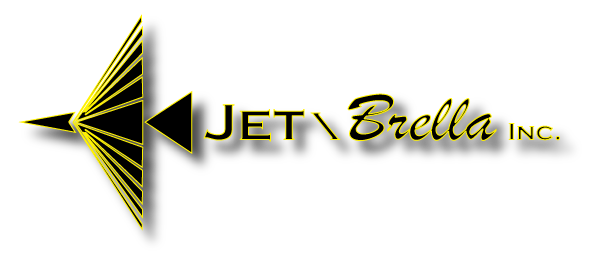 Jet\Brella – The Company
With an unwavering eye towards innovation, quality, and personal service, Jet Brella was founded in 1995 at Van Nuys Airport California. Jet Brella has continued to grow over the years to become the premier global supplier of high quality inlet covers. Utilizing the finest materials from around the world and the best southern California aerospace coatings specialists, each "Brella" is manufactured, assembled, and tested to exacting standards in our own plant.
In 1996 Jet Brella Inc. became certified by and offered as standard equipment on the Gulfstream V. Today, Jet Brella products are approved for use by Boeing and Falcon and offered as an OE item by Gulfstream and Embarer. Our inlet, exhaust, and APU covers are now found on many Fortune 500 Company's aircraft such as Berkshire Hathaway/Net Jet, GM, Ford, Lockheed-Martin, Northrop-Grumman, IBM, HP, and The Limited. We have also supplied our products to the U.S.A.F 89th Airlift Wing and the U.S. Coast Guard.
Since those early days, Jet Brella Inc. has never strayed far from its roots. Today we still specialize in inlet, exhaust, and APU covers for corporate and commercial aircraft. Jet Brellas are still 'the inlet covers pilots love to use'.